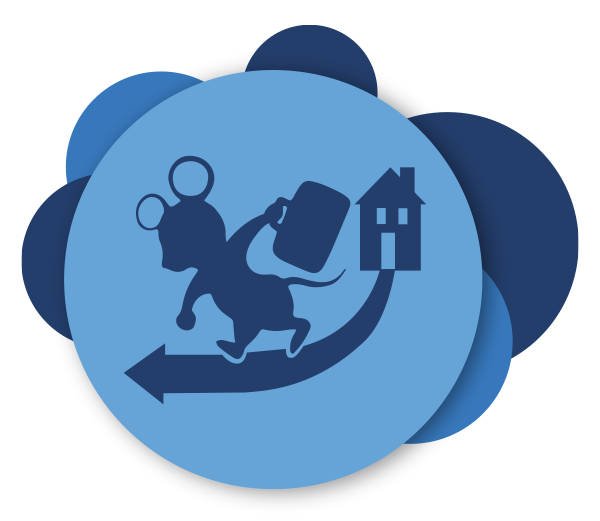 Great scent, Great results…Great product!
Moen's Mouse-Mix is a natural mouse and pest deterrent that really works! It is not a poison. It is non-toxic to children and pets.  Thus, there are no dead mice to dispose of. There are no unpleasant surprises of finding dead mice after they have begun to decompose…or worse yet, have them decomposing somewhere in your home out of reach behind walls.
Moen's Mouse-Mix is baked-in & made with with 100% natural, non-poisonous spices & oils. The ingredients act to burn and disrupt a mouse's sensory organs (nose, eyes, and throat). Therefore, it has an effect much like tear gas on mice and they will vacate. Critter-Crumbs and Farm-Pack are our more powerful pest deterrent formulas for effective use in lawns, gardens, and large storage buildings. 
100% natural & non-poisonous.

3 different products for home, outdoor, and storage use.

You put it out…mice & other pests leave.

Great for winter storage of campers, boats, cars, farm equipment & more!

Works on a wide variety of home & outdoor pests.
Many customers have had great success detering:  mice, rats, moles & voles, deer, rabbits, squirrels, chipmunks, bats, skunks, woodchucks, raccoons, and more.

A portion of all Mouse-Mix product sales is donated to various foundations & organizations to assist in funding research, treatment, and an eventual cure for Alzheimer's disease.
About Us
My parents have been making potpourri for years. They sell their potpourri at art and craft fairs in the upper mid-west. Mom began reading up on the benefits of using many natural oils and spices to deter certain pests. Mom had been using many of these particular ingredients in various blends of her potpourri for years. It was well-known that she had the most beautiful and longest lasting potpourri you could buy. Mom put the same precision and care into this; she perfected the strength, baking time, addition of other natural ingredients, and made Moen's Mouse-Mix. It is insanely popular! We are now helping them to share this wonderful product with the world.
Moen's Mouse-Mix Size And Price
Moen's Mouse-Mix regular strength comes in a 1.5 lbs. container for $30. For larger/multiple areas, take advantage of our internet special …2 containers for $55.
How Much Will I Need?
One container of regular strength Mouse-Mix will treat one of the following: An average-size basement, a 2-car garage, or a 30-40 ft. camper / RV. Farm Pack can cover multiple areas such as cabin, boat, shed, garage…
Can I Use This In My Garden?
Many of our customers also use Critter-Crumbs in garden & landscape areas to deter: r
abbits, deer, squirrels, chipmunks, skunk, moles, voles, raccoons…even bats. Its rain- and water-proof treatment really works!
Free Shipping on Orders Over $100!
Questions? Please contact us and we will get back to you ASAP.